Athy GFC - Match Reports.
U-14 book place in FÉILE A FINAL
Athy 2-13
vs Naas 0-06
Ref: Seamus Mc Kiernan
Athy booked their place in the Feile A final by beating Naas. Both teams opened with a point each which were quickly followed by one more each. The teams were drawn at 2 points each when Stephen May took advantage of a bad kick out to convert another point for the Reds. Athy took control with a goal that burst the net courtesy of Michael Kelly after a spell of pressure. Some stoppages due to injuries the first half was stop start and both teams suffered trying to find a rhythm. Athy tagged 3 more points on before half time to which Naas could only offer 2 more points as a reply. The half time score was 1-6 to 0-04 in favour of the home team.
The second half started with Athy domination. Despite the Blue and whites working hard to defend their opposition chalked 3 points on the board before a reply. A quick 45' allowed a brief reply but the killer blow came when Athy's second green flag came half way through the second period. Some wides could have acted as a quenching of Athy's desire and hunger but were only small defence against a further 2 points. Both teams made substitutions to inject life into their teams on a surprisingly humid and heavy evening. In the last 5 minutes Athy, continuing the trend of the tie, out-scored Naas 2 points to 1. On Seamus Mc Kiernan's full-time whistle the scoreboard read 2-13 to 0-06 in a tie where both teams fought hard but Athy were clinical in finishing and determined in their efforts. Although Naas had a low score they worked hard for their jersey and provided a more entertaining game than the final score reflects. Now Athy are facing a final and no doubt Naas will be contending again next year in the Kildare Feile A.
Senior make it 2 out of 2
Senior League Division 1: Athy 3-08 vs Sarsfields 2-09
Ref: Declan Mc Grath
With Sarsfields pressing for their first win of the league and Athy aiming for two in a row the energy and commitment would no doubt be central to this tie. Both teams were slightly weakened through injuries and sickness. The Sash were without Dermot Early and Athy were forced to plan without Paddy Dunne and Daniel O'Keefe, both who contributed to the victory over Ellistown. Nonetheless the coupling of these two teams brought goals, points and plenty of action points.
John Hennessy set out his stall early on with a converted first minute free and it was 5 minutes before Athy had a reply through Darroch Mulhall. Then the games first goal came as Cian Reynolds delivered a pass back from the bye line to Mulhall who beat Sean Campbell to the ball finishing the move as the ball hit the net. He seemed on top form as he then stepped up to a free 40 yards out and sent it over the black spot. This shook Sarsfields who faded slightly until Alan Smith tried to re-inject some life into his team by getting out in front of Brian Kinahan and then duly pointed. Angus Corry replied with a point of his own promptly. However the Sash's lift would come out of the blue. An innocuous high ball which Hennessey sent in shouldn't have troubled Paul Clynch in the Athy goal but a rare mistake cost Athy. The ball seemed all but safely gathered by Clynch but it bounced out of his grasp and into the net. Smith followed up with another point to concrete their intensions. Tensions were rising among both sets of players and Declan Mc Grath had to try and stamp authority on the game. He had booked Alan Barry earlier in the half and was forced to present the yellow again to Emmanuel Kennedy after a high challenge. David Holligan rose a roar from the stand when he burst past Michael Brown to fire the ball high and accurate over the bar for Athy's final score of the half. Considering the possession the Reds had they would have hoped to take a greater lead into half time but were left grateful of any lead when John Hennessy rounded Joe Kinahan for the second time before releasing a bullet shot towards the goal. With his heart in his throat, Paul Clynch watched the ball repel off the crossbar and away from his posts. The half time whistle seemed to come at a good time for Athy as their opponents were beginning to come into the game every minute. When the possession percentage is taken into account it was a productive half for Sarsfields who seemed to quench Athy's fire with Gary White, Enda Freeney and Alan Barry trying to cut through the defense of Brian Kinahan and Trevor Clancy.
The second half continued with Sarsfields pushing on taking advantage of any possession. To try combat Mark Brophy, Paul Hicks and Anthony Bracken decided to make some changes. Joe Kinahan was replaced by Adrian Kelly with some positional changes afforded to allow Kelly to take his place in the forwards. Despite this each of the Green and White's inside forward line tagged a point onto the board before the games third goal was netted. To the home side's despair it was the second occasion where a player took the ball down the end line with detrimental results. The on form Hennessey slipped past David Holligan before dispatching to Conor Kiernan who critically finished. On the face of it prospects were not good for Athy. They had worked hard for the scores they had and were only behind because of Sarfields' ruthlessness in punishing any mistakes. The Reds weren't playing necessarily playing bad but rather didn't have the run of the ball. James Eaton did his best to awaken his side a tight angled free which he effortlessly sailed over the bar. Shane O'Brien entered proceeding replacing captain David Dunne to bring some fresh legs to the Athy defence. He was welcomed by a classy point from Alan Smith. He was first to a superb pass from Gary White and then side stepped two challenges to expertly convert from 40 yards with his left foot. His sides lead could have been stretched further only for a Hennessy free hitting the post. The score was 2-07 to 1-05 in favour of the visitors. As was the case versus Ellistown, Athy moved up the gears and succeeded in taming the Sarsfields attacks, keeping them scoreless until the final 5 minutes. On The 45 minute mark James Kelly entered replacing David Mc Govern. His introduction proved to be the crucial decision from the Athy line. He took the ball down the end line and lay off the Brian Cardiff. He looked as if he was hesitant in shooting and was closed down but cleverly passed to Corry who drove the ball low and hard into the net. The Athy line was ecstatic and electrified by the developments. Intense pressure was exerted as Mick Foley was backed up at midfields by Cian Reynolds who was now sweeping around the middle picking up the breaks and spraying the ball inside. In an attack Mick Foley had the experience to hang back 30 yards out of from the posts and when the ball was cleared he gladly collected to point for Athy who were now in the ascendance. Yet again James Kelly caused havoc carrying through to lay off to Corry who had certainly come to life scoring his second point. The scoreboard was poised at 2-08 a piece and every decision by players, mentors and the referee was going to be the difference. With the wind knocked out of Sarsfields Athy pressed and another substitute justified his introduction with a score. Eddie Kelly netted the Reds third goal as he reaped the fruits of his hard work. The tempo from Athy couldn't be kept up any longer and they spent the remainder of the game camped in their own half. In an attempt to save the game they pushed Gary White forward. Some goal mouth last ditch defending was called for. This resulted in a free which Alan Smith converted to leave the gap at 2 points. Declan Mc Grath decided to add 3 minutes of extra time on and he was called into action yet again when he awarded a free just outside the box. In a last gasp desperate effort to protect their lead Athy had 14 men on or around the line. Smith stepped up and had no choice but to make a goal attempt. His shot repelled off the sea of red jerseys and was cleared out. Frustrations over boiled in the dying moments of the game as both teams were involved in a scrap. Mc Grath saw it fit to take no action but rather to end the game from the resulting kick out. The final whistle brought relief to Athy and more frustration to Sarsfields who had lost their second game in a row.
Overall it was the Athy changes that proved instrumental in the win. James Kelly's introduction was no doubt the decision of the game. He created 1-1 and caused nothing but trouble. Angus Corry who started justified his inclusion and Eddie Kelly polished his performance with a goal. The use of the full panel is key for any team throughout the season and the two wins from two look positive for Athy. Sarsfields did not let themselves down fighting to the end and playing with intensity and desire. Refining some aspects of play could be the answer but ruling them out of any title chases would be naive. The clash which runs through the team is bound to come up trumps and a backlash is on the cards from them.
Athy: 1.Paul Clynch,2.David Dunne,3.Brian Kinahan,4.Joe Kinahan,5.Ross Bell (0-1),6.Trevor Clancy,7.David Holligan (0-1),8.David Mc Govern,9.Mick Foley (0-1),10.Angus Corry (1-2),11.Emmanuel Kennedy,12.Darroch Mulhall (1-2),13.Brian Cardiff,14.James Eaton (0-1),15.Cian Reynolds Subs: Eddie Kelly (1-0) for Joe Kinahan, James Kelly for David Mc Govern
Sarsfields: 1.Patrick O'Sullivan,2.Karl Brown,3.Niall Cunningham,4.Ciaran Carey,5.Aran Mac Lennon,6.Gary White,7.Sean Campbell,8.Enda Freeney,9.Alan Barry,10.Conor Kiernan (0-1),11.Eoin O'Sullivan,12.Michael Brown,13.John Hennessey (1-3),14.Alan Smith (0-5),15.Robbie Cafferey (0-1).
Seniors get off to Winning Start
Senior League Division 1, Round 1: Ellistown 0-05 Athy 1-12
These 2 teams met on Sunday in Round 1 of the League and will face each other again in Round 1 of the Championship later in the year. Ellistown will be keen to improve as Athy drew first blood at the weekend.

Athy started with clear intent to take the tie and were 3 points to the good before Andrew O'Neill converted a free to claim Ellistown's first score. Athy's scores came courtesy of James Eaton and Brian Cardiff. Eaton was pin point accurate with his frees all day and the first of these came from him on the 10 minute mark after Brian Mackey got Ellistown's second score. In the next 10 minutes Ellistown had multiple chances to lessen the gap but were wasted wides. With Eaton, Cian Reynolds and Brian Cardiff in the full forward line Athy looked dangerous when they let the ball in fast and direct. Eaton converted another free for Athy's last score of the half. On the stroke of half time Ellistown could have drawn level as Ken Donnelly rose above all to claim the ball, then turning goalkeeper Stephen Davis but had his shot cleared off the line by Joe Kinahan. This left the score at 0-06 to 0-03 in favour of the Reds.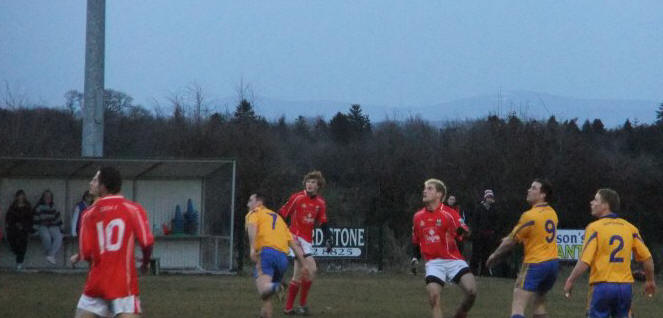 The second period signalled the transition up in the gears for Athy. David Mc Govern was relieved at mid-field as Trevor Clancy was brought into the game. The pace was increased in the game starting with fast passing from Athy which allowed Cian Reynolds to register his first point of the day. Directly from that kick out Ross Bell punished Ellistown with another point. The killer blow came in the 33rd minute when Eaton fisted the ball into Alan O'Malley's net bringing a roar from the large Athy crowd. In retaliation Ken Donnelly could only manage to tag one point on the board for his team. Cian Reynolds cancelled this out with his second point. The Athy sideline decided to utilise their bench and made some changes. Darroch Mulhall justified his introduction with a point of his own. Despite Rory Mc Cormack and Stephen Conroy's efforts to make in-roads, Athy repelled the attacks. Hope was well and truly lost for Ellistown when Michael Donnelly was sent off with a second yellow 20 minutes from the end. Their play became stagnant and laboured. Their tactics were changed, launching long high balls into Andrew Dempsey. The extra man enabled Athy to have Brian Kinahan sweeping up at the back to alleviate this pressure. James Eaton rounded off a promising personal and team performance with 2 more points, bringing his tally to 1-7. The referee then called an end to proceedings and the Athy crowd were left satisfied while Ellistown rued their wides and at times indiscipline.
A positive start to football in Division 1 was needed for Athy. They earned promotion last year and will now be fighting to remain in the top flight. Despite the defeat, Ellistown will be no push over when these two sides meet in the Championship. As for now improvements will be on the agenda for Round 2 in both dressing rooms looking ahead.
Ellistown: 1.Alan O'Malley,2.Christy Carling,3.Michael Donnelly,4.Michael Carling,5.Gary Kinahan,6.Enda Nurin,7.Colm Donnelly,8.Tomas Loughlin (0-1),9.Brian Mackey (0-1),10.Rory Mc Cormack,11.Gavin Dooley,12.Stephen Conroy,13.Andrew O'Neill (0-2),14.Andrew Dempsey,15.Ken Donnelly (0-1)
Athy: 1.Stephen Davies,2.David Dunne,3.Brian Kinahan,4.Joe Kinahan,5.Shane O'Brien,6.Mick Foley,7.David Holligan,8.David Mc Govern,9.Paddy Dunne,10.Daniel O'Keefe,11.Emmanuel Kennedy,12.Ross Bell (0-1),13.Cian Reynolds(0-2),14.James Eaton (1-07),15.Brian Cardiff.(0-1)
Subs: Trevor Clancy for David Mc Govern,Darroch Mulhall (0-1) for Shane O'Brien,Angus Corry for Daniel O'Keefe,James Kelly for Emmanuel Kennedy,Adrian Kelly for Paddy Dunne
Athy Minors March on!
Minor League Division 1: Sarsfields 3-05 - Athy 3-13
In a game where goals were in no shortage of goals, Athy left Sarsfields with the victory. No doubt Athy's positive and productive start acted as a platform to build from. The Sash didn't manage to convert their effort outfield into results in front in the first 20 minutes. During this famine period for Sarsfields Athy guilded a four point lead courtesy of a pair of points from both Niall Kelly and Kevin Feeley. However the Reds were rocked by a Sarsfields goal provided by Dean Higgins. Despite this set back they continued to exert pressure on their opponents who soaked the majority of it, but were punished for any mistakes. Feeley added another to his tally accompanied by a David O'Toole point as he progressed from left half back. In the space of 4 minutes before half-time Niall Kelly chalked another point on the board and then netted a goal, feeding off full forward Conor O'Keefe. Athy looked to have things under control but on the stroke of halfway Daniel Nea and Padraig Scully combined in attack. The attack ended with a dangerous high ball which Dean Higgins flicked past James Roycroft to claim his and Sarsfields second score of the game. The halftime score line was 1-07 to 2-0, with Sarsfields perhaps rueing their scoreless first 20 minutes.
Dan Nea led by example for the Sash and was making in roads through the Athy defence. A Niall Kelly point and a critically finished goal from Sean Ronan quenched the Sarsfields fire for a short period before Nea brushed off 3 challenges to register Sarsfields' first point of the game. Athy tagged 2 more points onto their lead before they had a quiet period of their own. For 10 minutes both teams exchanged attacks and challenges with the home team scoring more, 1-2. Ian Mulligan took full advantage of his position at half back to move forward for the goal. Kevin Feeley broke this Athy drought with a brilliant dummy and left foot point. Athy's line then made a few changes to freshen their set up. Killian Mulhall, was one of these replacements, snapped onto a loose ball to net Athy's 3rd goal. Niall Kelly also managed to register a pair of points before his departure for Jason Ellard. Paddy Crinnigan, Cillian Smith and Craig Mc Donald each guided the ball between the post for the Sash but the efforts of the defence led by Padraig Scully were too little too late.
The game finished 3-13 to 3-05 with both teams exhausted having worked hard for their scores. Perhaps lack of accuracy was Sarsfields let down but is must be said Athy very ruthless in attack, however the leaking of three goals will have to be addressed by both teams.
Sarsfields: 1.Don Fronz,2.Gavin Duane,3.Mick Dunne,4.Philip McDermot,5.Ian Mulligan (1-0),6.Padraig Scully,7.David Hickey,8.Daniel Nea (0-1),9.Craig Mc Donald (0-1),10.Ronan Fitzgibbons (0-1),11.Bobby Horton,12.Ciaran Hanraton,13.Cillian Smith (0-1),14.Dean Higgins (2-0),15.Paddy Crinnigan (0-1)
Athy: 1.James Roycroft,2.Carl Gill-Foley,3.Luke Thomas,4.Wesley Clare,5.David Hyland (0-1),6.Barry Purcell,7.David O Toole (0-1),8.Liam Mc Govern (0-1),9.Kevin Feeley (0-4),10.Ray Hyland,11.Tony Gibbons,12.Niall Kelly (1-6),13.Sean Ronan (1-0),14.Conor O'Keefe,15.Hugh Mahon
Killian Mulhall (1-0) for Ray Hyland,Jason Ellard for Niall Kelly,Trevor Farrell for Hugh Mahon,Mark Robinson for Tony Gibbons,Conor Harrington for David O'Toole

Sarsfields Blitz Athy
U-14 League Division 1: Sarsfields 6-9 - Athy 2-6
Although both teams started off well the final score reveals the trend of the match. Athy started positively with Stephen May scoring in the first minute. Niall Manning cancelled this out with a point of his own, which was followed by a score each from Conn Whelan and Manning again. Athy almost had the green flag risen but May had a goal bound effort half blocked and put barely over the crossbar. Whelan scored two quick fire points without replay and a fourth to add to his tally. Despite working hard in the first period the Reds only managed to increase their score by one more point before the midway whistle was blown, leaving the scoreboard looking 0-06 to 0-04 to the Sash. Considering the wind was firmly in favour of the home team, Athy did well to leave themselves with only a pair of points to pull back.
With the wind at their backs Athy would have been hoping to capitalize. However their fate was much the opposite. In a blitzkrieg sort tactic Sarsfields bombarded Conor O'Toole's posts, inflicting damage worth 4-2 on the now disheartened Reds. Cian Scala claimed 1-2 of this total, with Conor Delahunty, Dylan Burke and Niall Manning converting the other goals. Although the gap was now much wider Athy persevered and Stephen May provided guidance, being fed by Niall Foley and Michael Kelly, netted one of his own. Whelan guided a free between the posts for the Sash which signalled a quiet patch for his team. The Athy line made some changes and after Rory Feeley scored his second point of the day, Dylan Preston, just on three minutes, soccer styled a low ball past Rob Abbot. Niall Brennan then entered the field for Athy replacing Barry Kelly in the forward line with ten minutes left. However the next sequence of play did not act as inspiration for a comeback as Delahunty snatched on a loose ball off the post for his second goal. Niall Brennan made a positive impact like Dylan Preston and scored a point but this was a mere dent in the Sarsfields lead which was increased in the last play as Delahunty completed his hat-trick.
Even though the wind was a factor it has to be said it can't win any team a game, and no doubt Sarsfields worked hard for their win, playing well when in possession and fought doggedly for the ball when chasing. Although Athy persevered whole heartedly, the ten minute domination and assault of their goals led to an impassable gap. Sarsfields ran out 6-9 to 2-6 in the end but no doubt these teams will meet again later in the year.
Athy: 1.Conor O'Toole, 2.John Moran, 3.Tadhg Foley, 4.Tomás Foley, 5.Mark Hyland, 6.Lee Foley, 7.Tony Martin, 8.Niall Foley, 9.Michael Kelly, 10.Eddie Roycroft, 11. Stephen May(1-3), 12.Rory Feeley (0-2), 13. Barry Kelly, 14.Dominic Fennelly, 15.Daragh Roycroft - Subs: Dylan Preston (1-0) for Dominic Fennelly,Kevin Maher for Eddie Roycroft,Niall Brennan (0-1) for Barry Kelly,Darren Donovon for Daragh Roycroft,Mark Prior for Conor O'Toole
Sarsfields: 1.Rob Abbot, 2.Ciaran Maher, 3.Con Kavanagh, 4.Luke Cawley, 5.Ryan Brady, 6.Sean Dempsey, 7.Sean O'Donovon, 8.Cian Mc Connell, 9.Alan Scully, 10.Shea Ryan, 11.Conn Whelan (0-5), 12.Niall Manning (1-2), 13.Cian Scala (1-2), 14.Conor Delahunty (3-0), 15. Dylan Burke (1-0) 23.Tom Aspel, 25.Seamus Phelin, 28. Chistopher Ward

Athy Minors impressive against Clane
Minor League Division 1: Athy 3-15 - Clane 0-05
Referee: Brendan Hickey
(28/2/10)
Athy Minors made it two from two by beating Clane at home in Geraldine Park. They impressed with some fast effective and decisive football. It was Niall Kelly who opened their scoring with two quick fire points, one free, one from play. Capitalising on the Clane kickouts Kevin Feeley was enabled to feed Hugh Mahon who duly converted. The scoring spree continued as David O'Toole beat his man to gather and in turn deliver a long high pass to Sean Ronan. Ronan turned on the slippery surface to net the ball giving Athy a 1-3 to no score lead. He added another point from the resulting kickout and looked on form. Tony Gibbons and Eoin Kelly were having a good battle for possession with Gibbons attaining his first score after 20 minutes with a long range point. Up until then Clane had 3 attacks to no avail and finally put a score on the board when Stephen Corrigan glided one over Jason Ellard's crossbar. Despite Barry Eagan working hard and running the channels Clane didn't manage to convert their effort into scores in the first half. Liam Mc Govern got the last score of the half leaving the board reading 1-06 to 0-01 in favour of the Reds.
The two teams resumed the game where the blistering pace of the first period was replaced by a slower next 10 minutes. After this lull in play Clane almost grasped some hope but were denied by Wesley Clare who placed himself nicely on the line to gather a shot which had beaten Ellard. Moving across the ground like a racehorse, Tony Gibbons carved an opening for himself and chalked another point up to his tally. From this the ball was moved swiftly up to the forwards where Sean Ronan pointed once more. To add to Clane's despair, Kevin Feeley rose above Ciaran Fagan to fist in to the bottom corner of the net. Now it was clear that Athy were pulling away forging a considerable gap. Mc Govern and Gibbons took 2 more points each before the Athy bench decided to make some changes and use their full panel. Niall Kelly left footed another point for himself before being replaced. One of those who were relieved of his duties was Sean Ronan, but before his exit, managed to trickle a loose ball into the goal with his left foot. He left the field with a tally of 2-2 and was applauded for his contribution. Despite the gap Clane continued to work hard and run well and scared the Athy selectors when Eoin O'Neill blasted his effort only inches over the crossbar. This signalled a period of dominance for Clane where they converted 3 points courtesy of Stephen Corrigan, Paddy Mc Kenna and Barry Eagan. Sadly it was too little to late for the men in white. Mark Robinson, newly introduced linked with Feeley who easily tagged one last point on for the reds.
In the gap was large but perhaps if Clane had lessened their wide count the scoreboard would reflect the effort they exerted. Nonetheless Athy made the vital links and finished where it mattered to collate a score which was deservedly earned by a panel who jointly fought for the victory.
Athy: 1.Jason Ellard, 2.Carl Gillfoley, 3.Luke Thomas, 4.Wesley Clare, 5.David Hyland, 6.Barry Purcell, 7.David O'Toole, 8.Liam Mc Govern (0-03,2f),9.Kevin Feely(1-1),10.Ray Hyland,11.Tony Gibbons(0-5),12.Niall Kelly(0-3,2f),13.Sean Ronan(2-2),14.Conor O'Keefe,15.Hugh Mahon(0-1).
Subs: Conor Harrington for Carl Gillfoley (HT), Stefan Flynn for Tony Gibbons (48mins), Trevor Farrell for Niall Kelly (50mins), Mark Robinson for Sean Ronan (52 mins)
Best for Athy: Sean Ronan
Clane: 1.Ciaran Fagan,2.Sean Christanseen,3.Stephen Byrne,4.Tom Darcy,5.Cian Donahue,6.Eoin Kelly,7.Robbie Herbert,8.Barry Eagan(0-1),9.Karl Cleary,10.Alex Mc Cann,11.Sean O'Rourke,12.Stephen Farrell,13.Eoin O'Neill(0-1),14.Cian Kilkenny,15.Stephen Corrigan(0-2,1f)
Best for Clane: Barry Eagan

St. Kevin's Conquer Athy
Aldridge Cup Round 2: St. Kevins 2-11 - Athy 2-05
(27/2/10)
Athy began this round 2 match positively with a Paddy Dunne point but this trend didn't continue. St Kevins returned this start with points from Eoghan Carew, Cormac Noone and Barry Noone. Once again Paddy Dunne replied to bring the gap to one but the opposition continued their scoring spree for the rest of the half. St. Kevins passed accurately and created multiple chances. Their accurate passing was matched my sharpshooting from the forwards. It seemed they couldn't miss with a further 2 more points being converted. To worsen matters for Athy, Francis Kilcoyne left Barry Cardiff no chance with a goal to that rattled the net. The score was 1-05 to 0-02 and matters remained ominous for the Barrowsiders. Athy couldn't manage to convert with wides and short efforts becoming a common occurrence. St Kevins continued their bombardment of the Athy post chalking 4 additional points before half time. On the stroke of half time John Grehan had to be at his best to deny Athy's Daniel O'Keefe a much needed goal. Cian Reynolds claimed Athy's last score of the first period with a short range free. The teams went their separate ways for half time with the score lying at 1-09 to 0-03 in favour of the home team. Their lead was well deserved and their accuracy must be commended.
However, the half time whistle seemed to have broken the Kevin's rhythm. On the resumption of the game it was Paddy Dunne, without doubt Athy's best of the first half, who nestled a shot neatly into Grehan's net. Keeping the ball in the opposing half, Athy were murmuring a comeback. Reynolds converted another free and then 2 minutes later was the quickest to a loose ball. He turned to an open net and added a goal to his tally. The murmur of a comeback, with the score at 1-09 to 2-04, was swiftly quietened as Eoghan Carew rose above David Dunne and Barry Cardiff to fist a goal. The blow of this goal was concreted with a converted free from Mark Fitzharris and it was apparent that the wind had been taken out of the Athy fightback. Carew added another point on the 50 minute mark. Despite Paddy Dunne kicking another score 5 mins from the end, the victory was firmly in the grasp of the home team.
St Kevins ran out 2-11 to 2-05 winners with their accuracy, efficiency and work ethic paying off. Athy's lack of contributing scorers perhaps eventually led to the loss. However these are early days in 2010, both teams still trying to improve, taking nothing from what was a convincing display by the St Kevins team.
St. Kevins: 1.John Grehan, 2.Thomas Barron, 3.Jason Brosnan, 4.Patrick Cox, 5.Ronan Bourke, 6.Cathal O'Leary, 7.Trevor Mc Donald, 8.Philip Reilly, 9.Michael Kenny(0-01), 10.Cormac Noone(0-03), 11.Brian Dunne, 12.Mark Fitzharris(0-02), 13.Barry Noone(0-01), 14.Eoghan Carew(1-03), 15. Francis Kilcoyne(1-00)
Athy: 1.Barry Cardiff, 2.Cormac Shaughnessy, 3.David Dunne, 4.Joe Kinahan, 5.Shane O'Brien, Trevor Clancy, 7.David Holligan, 8.David Mc Govern, 9.Paddy Dunne (1-03), 10. Danny O'Keefe, 11.Rossy Bell, 12 Aengus Corry.13.Corey Moore, 14. Brian Cardiff, 15.Cian Reynolds (1-02, 2f)

Minor Boys off to winning start:
Minor League Division 1: Celbridge 0-09 - Athy 0-14
Referee: Conor Daly (Leixlip)
(21/2/10)
Despite being early in the season both teams displayed a high standard and fast pace in the opening stages of the match. Both sets of defenders set their stall out from the whistle and weren't conceding ground easily. The first score of the game was produced by Athy as Kealan Bolger directed the ball between the sticks high and accurate. Celbridge stated their intent by immediately countering from the kick-out to force a full body save from James Roycroft. The Reds extended their lead with scores with 2 points from Liam Mc Govern and Niall Kelly alike. Mc Govern was ever trustworthy with the left boot but with Michael Konstantin beginning to warm into the game for Celbridge he layed off to Adam O'Seach who dispatched Celridge's first point on the 16 minute mark. A period of dominance for the Blue and Whites seen them come within 2 points of Athy, compliments of two Konstantin frees, before Liam Mc Govern once again stepped up to convert a free from close range. Celbridge attacked and threatened but failed to convert kicking wide and into the keeper's hands. The on-form Hugh Mahon, returning from a serious injury, punished Liam Mc Donnacha with his pace as he neatly set Tony Gibbons on his way to his first point of the game. At half-time the score was 0-07 to 0-03 in favour of Athy with both teams in their rhythm, playing fast football on the impeccable Celbridge surface.

The second half started in the same vain with both teams working at full effort. On this occasion it was Celbridge who threatened first with Gearoid Mc Aodhagain slightly kicking wide of James Roycroft's goal. Mc Aodhgain's half forward partner, Michael Konstantin, cancelled out this wide with a point of his own just one minute later. Athy's first attack, on Sean Mc Conmara's goal, of the second period came from Raymond Hyland who had his shot cleared off the goal-line. Later Tony Gibbons chalked his second point up which was duly matched by Adam O'Seach. With the Celbridge mid-field pairing of Ferghal O'Conbhui and Conchubar O'Dalaigh running the channels connecting with the inside six, they added another point to the board. Niall Kelly combated against some tight marking from Niall O'Donaille with his converted point. However just like the first half, Celbridge resumed a period of dominance, winning the high kick out and constructing some moves. In te added a point to their accounts. The gap was down to the minimum for the first time of the game. Once again it was Kelly who replied for Athy being fed by Kevin Feely, Barry Purcell and the industrious Mc Govern. Hugh Mahon ended his lightening return with a point, then being replaced due to injury. There was a late scare for the Athy followers as Celbridge had a goal chance cleared off the line by some desperate defenders. To seal the win Niall Kelly capped a solid performance with a point and Kevin Feeley glided a 40 metre kick over the black spot.

The standard of football was commented on by supporters as excellent, fast and promising for both teams. Despite the gap being 5 points, both teams were neck and neck with each other and matched each other in almost every part of the field. No doubt these teams will meet again later in the year.

Celbridge: 1Sean Mc Conmara, 22Niall O'Donaille, 3.Stiofan O'Murchu, 4.Liam Mac Donnacha, 5 Cathal Sleibhin, 6.Crouder Plaincead, 7.Padraig Breoite, 8.Ferghal O'Conbhui, 9.Conchubar O'Cionnaith, 10.Michael Konstantin, 11.Adam O' Seach, 12.GearOid Mc Aodhgain, 13.Dylan O'Corcran,14.Jordan O'Muireasa, 15.Caomhin O'Murch - Best for Celbridge: Adam O'Seach

Athy: 1.James Roycroft, 2.Sean Ronan, 3.Luke Thomas, 4.Wesley Clare, 5.David Hyland, 6.Barry Purcell, 7.David O'Toole, 8.Liam Mc Govern, 9.Kevin Feeley, 10.Raymond Hyland, 11.Tony Gibbons, 12.Kealan Bolger, 13. Niall Kelly, 14.Conor O'Keefe, 15.Hugh Mahon - Best for Athy: Liam Mc Govern - Subs: Carl Gilfoley for Wesley Clare (26mins), Killian Mulhall for Hugh Mahon (28mins)